Our chapter is a sub-division of membership in the Music Teachers National Association (MTNA) and the Kentucky Music Teachers Association (KMTA). By joining these organizations, you will be connected to a wealth of teaching and business resources for music teaching professionals.
Membership Benefits
Membership in MTNA grants you membership into KMTA and NKMTA. With one membership fee, you get benefits at the national, state, and local levels! Benefits of membership in MTNA/KMTA/NKMTA include:
Discounts and Resources—discounts on MTNA conferences and competitions, as well as office supplies, travel and much more!
Educational Opportunities—featuring MTNA's preeminent yearly national conference, with workshops and seminars on teaching (including group and recreational music-making), ethics, industry developments and more.
Professional Development—MTNA's popular monthly webinars cover a variety of topics of interest to music teachers, from studio resources to ornamentation to cybersecurity.
Professional Support Services—recommendations and referrals for studio resources, insurance and legal consultation, enrichment grants for teacher study, merchant services and new technology resources.
Publications: Two MTNA-only publications, The American Music Teacher and the MTNA e-Journal help keep you up-to-date with current trends in music and education.
How to Join
On the MTNA website, click the "Join + Renew" button, and click the "Learn More" link on the Active Member button. (See image below). There are additional registration options for Seniors, Collegiate, and other types of members – whichever you pick, you'll click the "Learn More" link under the associated image.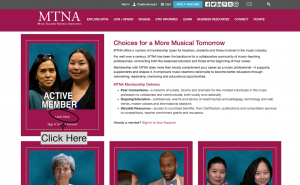 Click on the "Join Now" button and complete the form.
Click the link below to be taken directly to that registration page:
Click on the "Join Now" button and complete the form.